Demo videos of the amplifiers
and a video by Axel Heilhecker, owner of a dem Gladius AVT 18.
AVT 18 Axel Heilhecker
Demo videos by Thomas Blug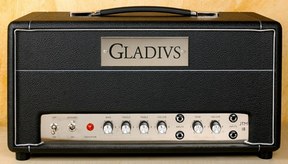 GLADIUS Amplifiers
(Click on the names for details)
GLADIUS Cabs
Loudspeaker Cabinets
LCO112AW This small cabinet meets the highest requirements and even has really fat basses at room volume. Like the big Gladius cabinets, it was also very important to cover a great harmonic frequency range.
LCO112BW Just like the LCO112AW (slanted version), this 1x12" offers the same harmonious sound spectrum, only with a slightly extended bass response. Use stacked with LCO112AW or solo.
LCO212A The 100% hand-built 2x12 LCO212A is perfect for voluminous blues or rock of the late '60s and early '70s. Although extremely light weight, it produces a 3-dimensional sound, even at low volunes
LCO212AW Open back version of the LCC212AW
LCO212C Smaller open back 100 W cabinet with two speakers
LCC212AW The idea was to build a closed 2x12" cabinet that sounds like the classic 4x12", but with a lighter weight.
LCC412AW 4 x 12" The Gladivs 4x12" cabinet has become the benchmark on the market as being the smallest, lightest and best sounding 4x12".

Option: 'Mono-Stereo Mode' - The Cabinet will be equipped with two input jacks. This enables the player to use the speakiers separately.